How to… apply or remove custom bike frame sticker video
Want to customize and upgrade your bike name with custom bicycle stickers? This article is worth your time.
Where to buy custom bike decals
There are several stores like ours where you can buy stickers for your bike, helmet, bottle…
some with better quality and others with less. We have chosen to sell them in packs of 10, which is what most of our clients have demanded of us, in more than 15 years that we have been working. A good quality decal with a vinyl finish usually costs around €30 depending on the size, colours, custom text… you can take a look at what we offer on our website Pegatin Pro stickers.
Cycling is more fun when you customize your bike decal. And there are many ways you can do so, like adding personalized decal bike stickers to your bike.
Cyclists use customized vinyl stickers not only to make their bicycles eye-catching but also identifiable. Also, personalized bike decals can help keep you safe, especially at night. When riding your bike at night, other cyclists and motorists can easily spot you from a distance if you have ultra-bright fluorescent stickers.
While it looks easy to apply or remove custom bike frame stickers, it takes some skills to get it right. Let's teach you some of these skills.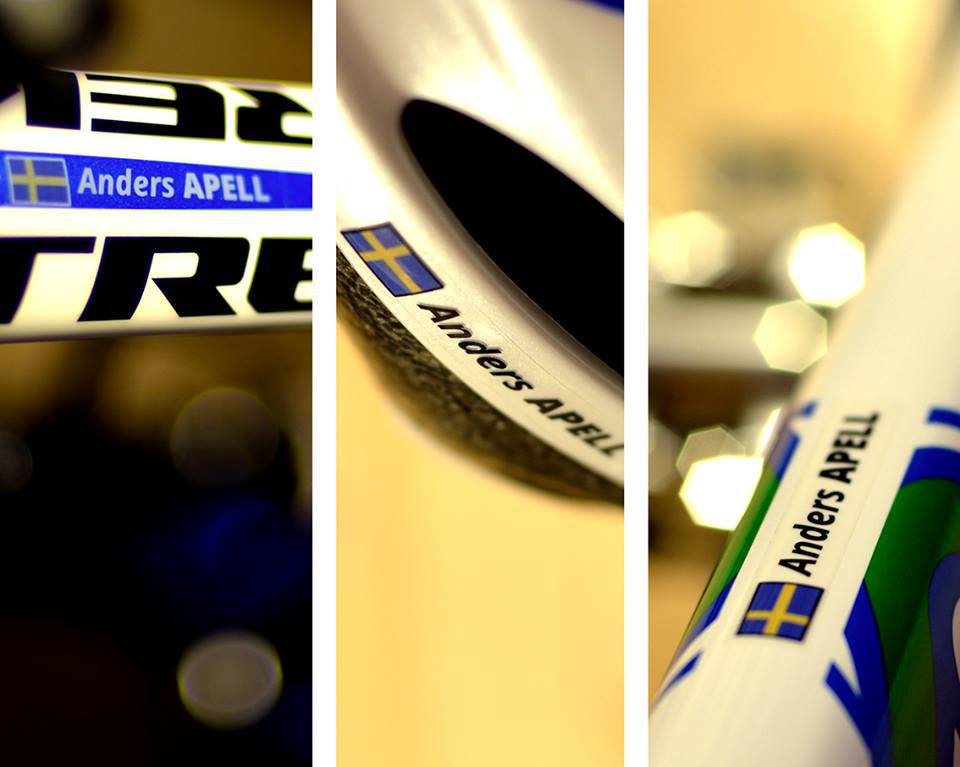 Other posts that may interest you about customizable bike stickers
Applying Custom Bicycle stickers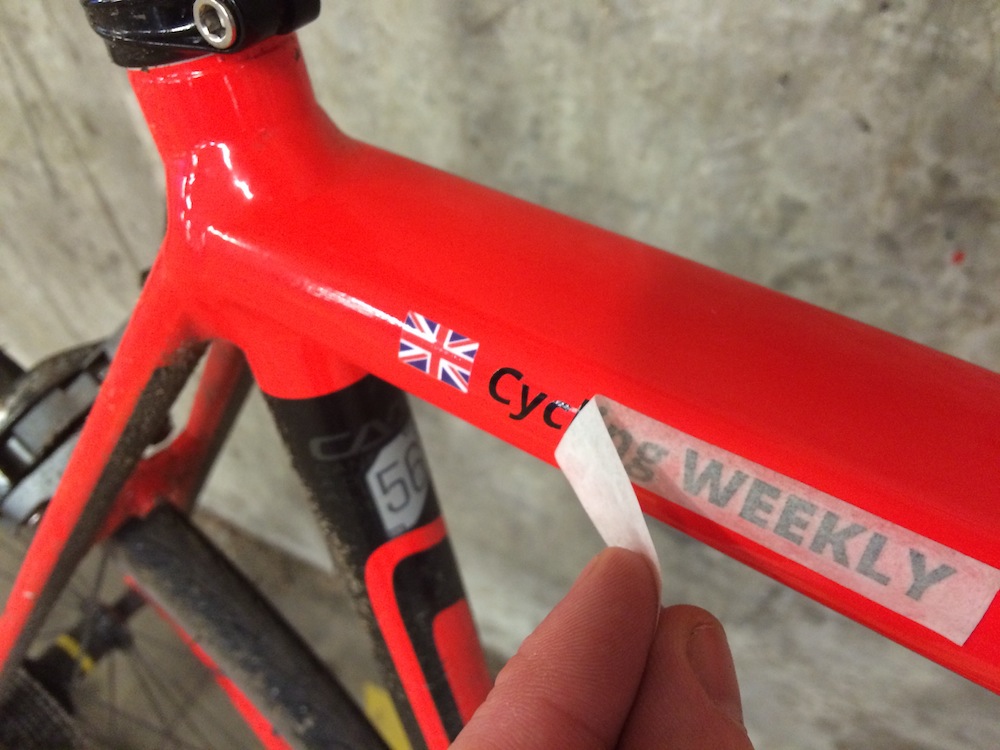 If you really love your bike, then you must be very cautious with it always. Most bikers will just buy a sticker and apply it on their bikes, not knowing there is a procedure to be followed. Here is how to do it right.
1. Identify the part of your bicycle to apply the stickers
Have you ever seen a bicycle with decals on its wheels? If yes, how long do you think they will stay there?
The truth is, not all parts of a bicycle can hold up to stickers. Therefore, you must identify the appropriate place to apply the stickers on your bike. If you are using name stickers for bikes, you want to place them where the details on the sticker are visible and readable.
The surface should be smooth, and flat and the part should not be one that moves or stretches when the bicycle is in motion.
2. Clean the surface
A bicycle sticker will only hold on to a clean and dry surface. Here, you'll need a mixture of soap and water or alcohol and water; the latter works best. Anything that can prevent the sticker from sticking should be removed. This includes things like grease or oil, dirt, and silicon spray.
Avoid using window cleaning products when preparing the surface as they can leave some residues behind, making the stick less effective.
3. Apply the custom decal
You should wait until the temperatures are moderate before you apply the sticker on your bicycle.
A masking tape will help you position the sticker as required. Apply the sticker with even pressure. Avoid touching the adhesive part of the sticker, as this will reduce its effectiveness.
Removing bike decals
If you feel that you don't need the bicycle decals anymore or perhaps want to apply another sticker, you can safely remove the existing sticker without leaving any residuals on your bike. Here is a step by step to how to remove bike decals.
Waterproof stickers for bikes may be hard to get rid of, as they are designed for durability. But this doesn't mean they can't come off your bike. A heat gun or heat dryer will help you remove custom bicycle stickers. All you need to do is heat the underside of the sticker to soften it up. Once done, you can scrape it off using a razor blade or a sharp knife.
Bottom Line
Applying custom bicycle stickers is easy, but you need to do it right. The surface must be clean and free from any components that could prevent the sticker from sticking to the bicycle. Most bicycle stickers are wind and rainproof, so you shouldn't mind cycling during rainy or windy seasons.

Get the best deals on Custom bicycle decals by shopping from us. Click here to order yours today!