If you are familiar with mountains in Asia, then you know they are quite a challenge for everyone. Khardung La is not an exception for this rule, as you could expect. Located in the Himalayas Mountains near the Indian area, this cycling port might be one of the mot challenging ones for several reasons. We already talking about it as a challenge, but we'll tell you everything you need to know about it before you think about going.
Where is Khardung La located?
As we mentioned before, the Khardung La port is located in the Himalayas. But, to be fair, talking about the Himalayas might be a bit confusing. The main reason is that it is one of the largest mountain ranges in the whole world. Even though it is part of the Himalayas, people are more used to refer to it as the Ladakh mountain. And, to be more specific, it is at the north of Leh and near the Shyok and Nubra valleys.
This place, long ago, was not meant to be used by people as everything was filled with snow and there were no paved roads on it. But as time passed by, during 1976 the construction of the road began and during 1988 people were able to ride on it.
Khardung La is a quite important place for Indian people as it is located near the borders of the country. Therefore, this is considered to be one of the highest mountain borders in the whole world as it is located over 5000m. It is a whole challenge only to stand in this place for a few minutes.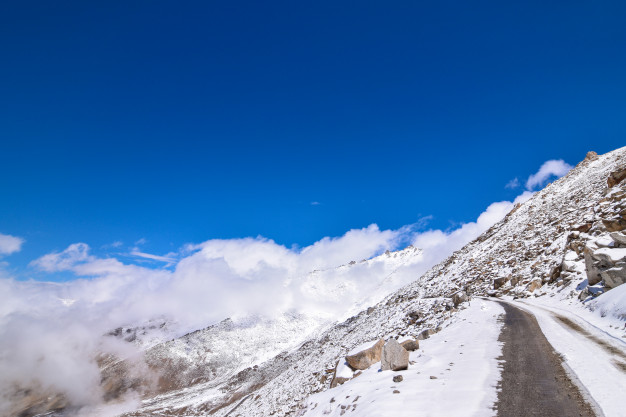 How can you visit this place?
People not only visit Khardung La for cycling purposes. Actually, this is one of the most visited places while being near Ladakh for some good reasons.
People can visit this mountain if they are near Leh, as vehicles only leave from 9 am to 1 pm due to climatic reasons. If you are willing to visit this place, then you need to take precautions. You don't want to get trapped at such a long distance from the city. Also, you have the chance to visit this place if you take a train, which will make things easier for you.
Important information about Khardung La cycling
If you are willing to visit this place, you must be prepared for what you will face. We know that this sounds like a pretty tough challenge, and believe us, it is. So if you are planning to visit it anytime soon, you should have some information before arriving there.
So, if you already planned your visit to Khardung La, here's some tips that will help you out:
It is located near a country border, so militaries will always be near this place.
Khardung La tends to have snow no matter when you go.
Take proper clothes with you as you will deal with low temperatures.
The whole road is paved but yet, be careful with the snow you can find in the way.
Just imagine how you will feel once you are here. A mountain over the 5000m, snow is all over the place, and you will be touching the clouds, sounds amazing, no?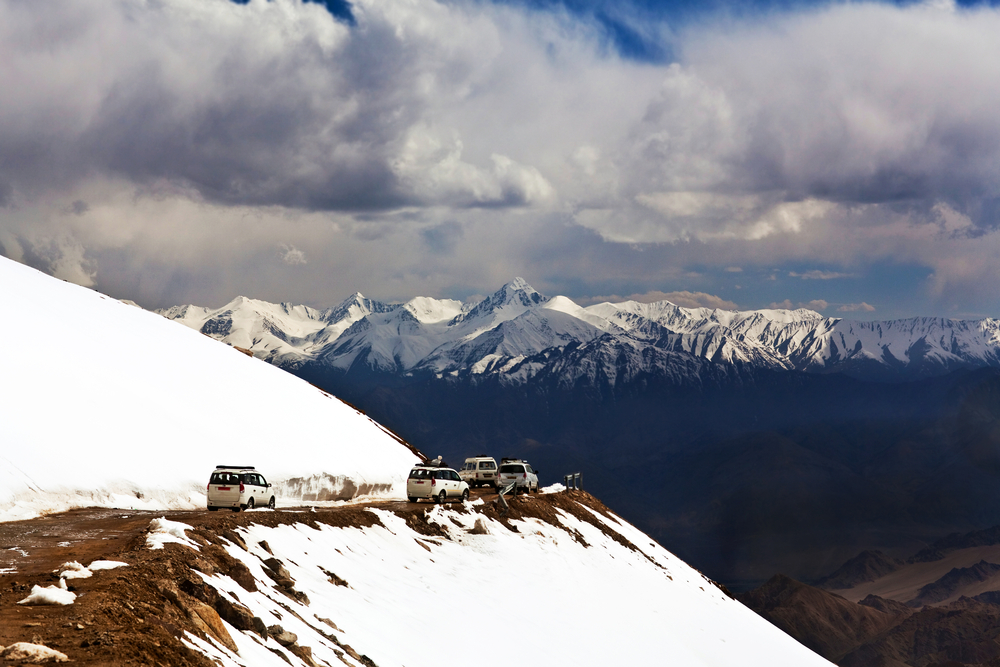 Recommendations before riding on Khardung La
As you can imagine, this place is a complete challenge, no matter if you are a pro. We know that rolling though a place like this sounds like a difficult place to ride on, so people need to know every detail that will help them to make things easier while riding and rolling on this mountain.
You will be riding on a place that's filled with snow, be prepared for that.
The road is over the 5000m, so you need a lot of preparation.
You won't find any stores near this place, so take all you need before the trip.
Ramps are not so brutal, but the road is already hard enough.
Already planning to go for a visit?
It might be a fact that after reading this, you are planning to go for a visit now. If you are willing to go, then remember all that we just told you. Khardung La is a place that will make you sweat all along, so be prepared for what might be the hardest ride of your life!