Van Rysel bikes is one of the newest bikes that Decathlon has created. Looking for a spot on the top road bikes for 2021, the Van Rysel Ultra CF promises to be one of the top performer bikes the company has ever created. It is easy to say this, but to be more precise, some things need to be seen, and that's what we'll talk about today.
Post that may interest you
Van Rysel Ultra CF: Designed for top performers
Over the last years, companies have been trying to create a perfect bike. It might seem like something impossible to do, but as new bike models appear in the market, people seem to be happy with the results they are getting.
One of those results that most people were looking for has a name: Van Rysel Ultra CF. Developed by Decathlon engineers who are always looking for top-tier components for a bike, the Ultra CF seems to be a perfect mix of what most cyclists are looking to reach that performance.
What we can find when talking about the Van Rysel bikes is a mix of quality components. As most cyclists could expect, Decathlon went for a safe bet on the gear they used for this road bike. Shimano would make a new appearance on this bike, and the company used the top-notch gear that Shimano has developed over the last year. 
Thanks to the addition of Shimano, especially the Ultra RCR 105, people can enter the world of carbon and performance by only using the Van Rysel Ultra CF.
And, in case you were wondering – yes, a carbon frame is used on the Van Rysel bikes. We already said it, but it's fair to say once again that Declathon has chosen a perfectly balanced carbon frame that provides dynamism and speed. But, you can also add lightweight to the formula, and the result is a quality road bike that we are we'll explore deeper.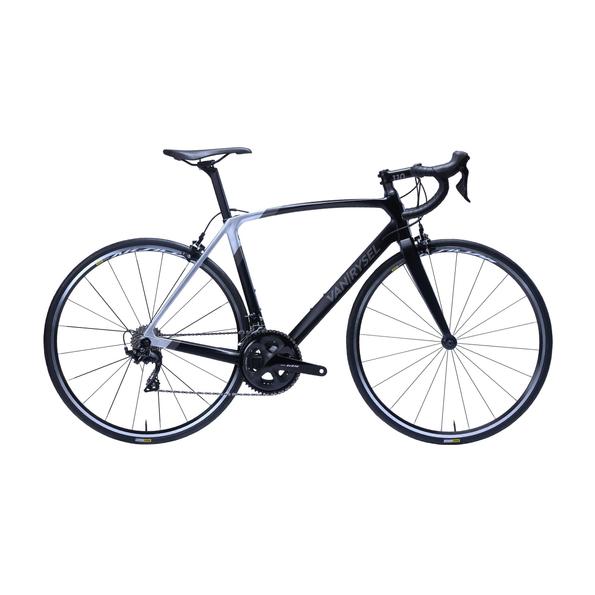 An honest review of Van Rysel components
As mentioned before, Declathon has very clear what they wanted to add to what might be their most potent bike for 2021. It is known that Shimano is a safe bet for most people, so what not use it on the Van Rysel Ultra CF?
But, if we want to understand the true power of this bike, why not take a deeper look at it? Let's see all the surprises it has for us.
Drivetrain: Shimano 105, R700 11 mechanical speeds. The 105 offers the same precise indexing as the Ultegra and Dura-Ace groupsets. The derailleurs feature an all-new design. The front derailleur has a guide combined with a new spring mechanism that ensures smooth shifting between chainrings. The rear derailleur now sports the same tried-and-tested mechanism found on the Dura-Ace groupset (cassette with 32 teeth max. for high-mountain cycling).
Cassette: Shimano 105 11-speed ultra-versatile, 11×28 cassette. 11 ; 12 ; 13 ; 14 ; 15 ; 17 ; 19 ; 21 ; 23 ; 25 ; 28. Crankset: Shimano 105 R7000 in 52 X 36. Size/Length: XXS / XS / S: 6.7″ M: 6.8″ L/XL: 6.9″ KMC X 11 chain.
Brakes: Shimano 105. Symmetrical dual-pivot design for more controlled and powerful braking. Adjustable spring tension on the front caliper.
One thing that we can say it's quite particular it's that only Shimano gear is used. No other components can be found on the Van Rysel Ultra CF.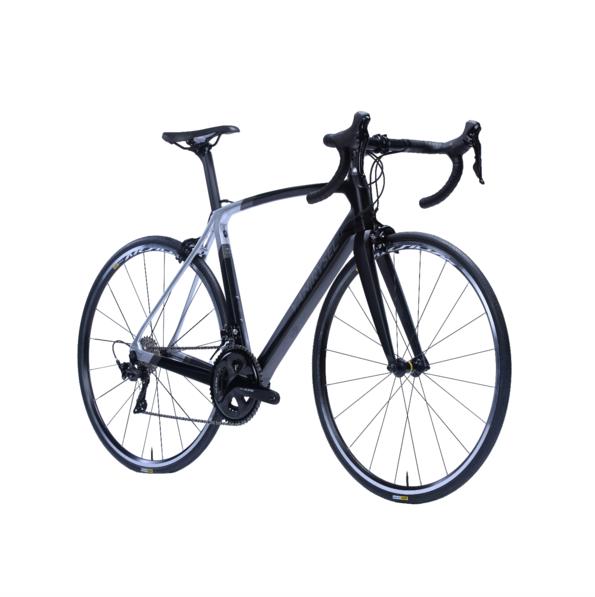 A 100% EvoDynamic frame
Decathlon has chosen a carbon frame for the bike. Other bikes have used aluminum for the frame, and it has proven to be a good choice. But in this case, Van Rysen prepared a surprise for cyclists.
The VanRysel Ultra RCR Evo Dynamic is meant to be the most advanced frame available to face different roads. It won't matter if you are riding on a mountain or just rolling down the street.
Basically what Decathlon did was to take a blend of HM and IM carbon fibers to offer one of the best weight-to-speed ratios for road bikes in the actual market. Meant to be taken of the hardest adventures, the Ultra CF is ready to go wherever you need to.
Van Rysel Ultra CF, a new face for Decathlon
After seeing all the Van Rysel has to offer, it is fair to say that we are quite impressed with what we will see on the market. Decathlon took a lot of premium gear and elements to make cyclists fall in love with their newest bike. And, after reviewing each detail of the bike, we can say that the competition for the best road bike of 2021 will be tough.
Video review after 100km