As cyclists, we are quite used to seeing the same company names year after year. We do know that Specialized, Canyon, Berria, among others, always try to get the best bike on the market. But, there are some surprises on the way. That's something that we can see with the E-117 Tri-Disc.
Created by Argon 18, a company that might not be so popular for some of us, this bike has stolen our attention. So, it's time for us to introduce it to everyone out there!
What does Argon 18 offer to cyclists with the E-117?
A company that is not always on our radars truly has to make a lot of effort. Argon 18 knows that they have to give their best every time they create a bike. That's why they always put a lot of effort to create new models to meet cyclists needs.
Things as the frame, components, and every detail needed for a bike to work are important, no one can deny that. Argo is pretty aware of that, and they truly managed to give us something that is pretty impressive since the moment we first take a look at it.
To understand everything we are talking about, we need to see further what the company did. When talking about components, there are different companies that are placed among the most reliable in the world. Shimano and SRAM are examples of that.
And, Argon 18 made a good choice by working alongside SRAM. They were looking for a powerful component for their E-117 Tri Disc, and they saw an opportunity with SRAM that no other company could have fulfilled.
Obviously, there's more waiting for us when analyzing how the bike was made. The next thing we need to see is a key feature of every bike: the frame. Surprisingly, the company made a choice that is quite good.
The carbon frame chosen for the E-117 Tri Disc offers the aerodynamic feeling that triathlon cyclists are looking for. But, there's more! Beyond the frame, the bike geometry also helps to reach this goal. Just as the company says, they are looking for a more aggressive approach to the aero position, but without losing quality on its way.
So far, Argon 18 has managed to keep us watching their bike, but now it's time to see the details.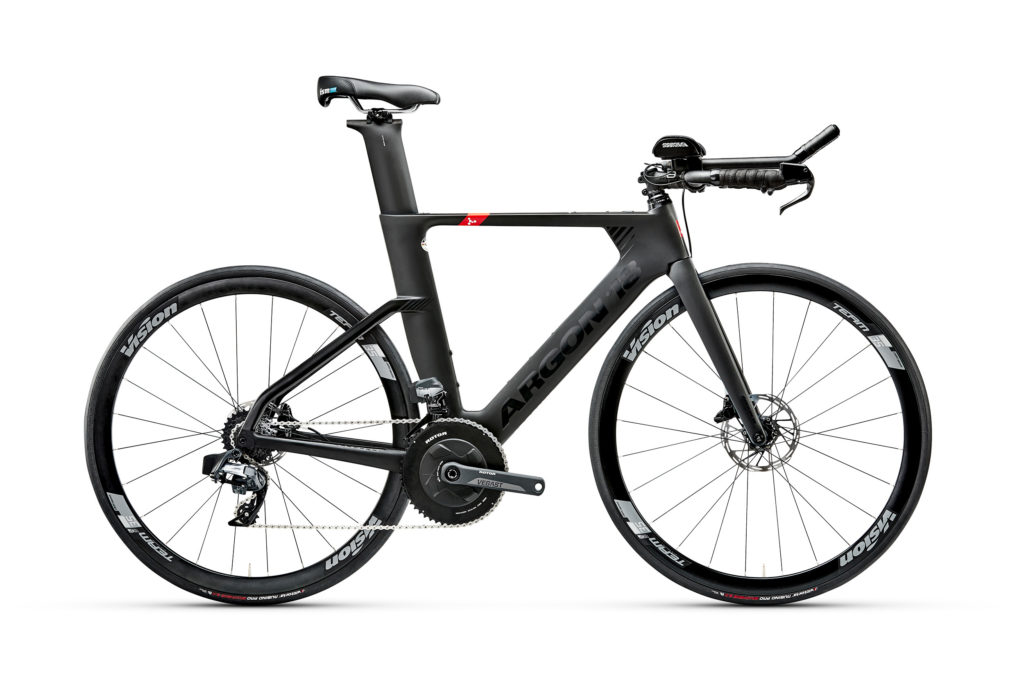 Is SRAM the perfect choice for the E-117 Tri Disc?
Trying to make a decision about which company should be in charge of the components that will be present on a bike might be hard. But, is not impossible.
Here we can see the perfect example of what Argon 18 did by choosing SRAM. We can say that, for this bike, these components are the perfect fit.
Front Derailleur: SRAM Force eTap AXS D1 .
Rear Derailleur SRAM Force eTap AXS D1 GLS Max 33T .
Shifters: SRAM eTap Multiclics + S900 A1 Aero HRD / bar end SRAM eTap Clics.
Rotor: SRAM Centerlock Paceline 160mm RR / SRAM Centerlock Paceline 140mm.
Cassette SRAM CS XG 1270 D1 10/28 XDR.
Chain: KMC X12 NPNP 114 link.
Something that people must be aware of is that there are two different packs of components on this bike. The other one still comes from SRAM, but there are some slight changes. In this case, we are talking about the Kit 2 ETAP SRAM Force.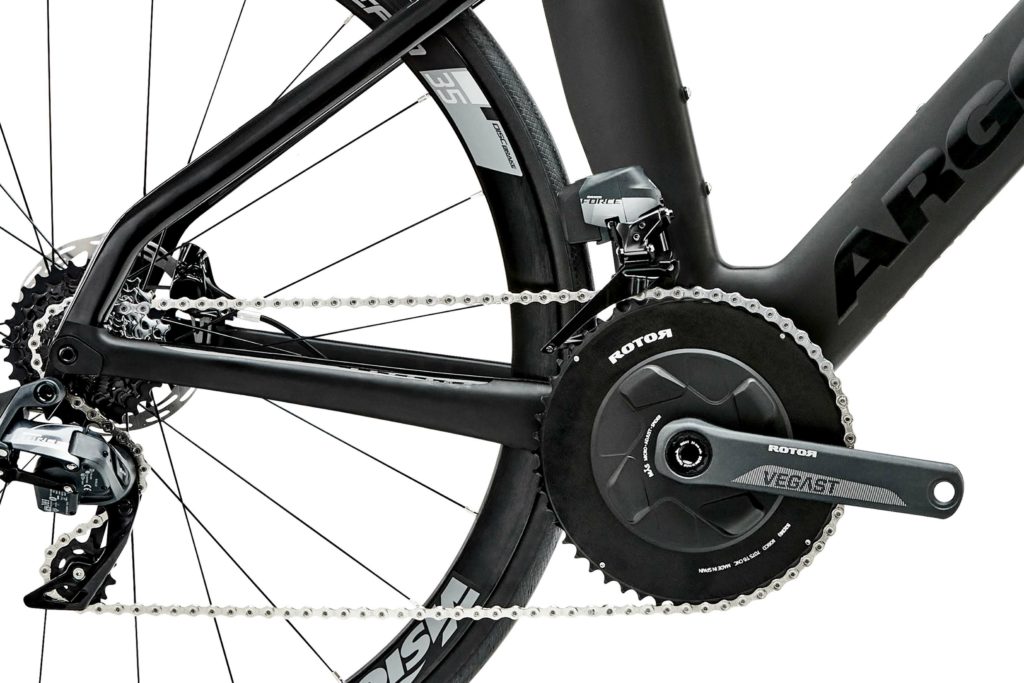 Which one was the choice of Argon 18 for the bike frame?
A bike is never, and will never be completed, without having a proper frame. It might not sound so important for some cyclists, but part of the performance lays on a good frame.
And, thanks to Argon 18 recognizing that we are able to say that they truly managed to do a good job with the E-117 Tri Disc. They added a carbon frame that was designed under a 3D system to make it better, the idea? To give the best performance for cyclists.
Also, thanks to its geometry, we have the chance to say that is the perfect choice for those looking for an aerodynamic bike.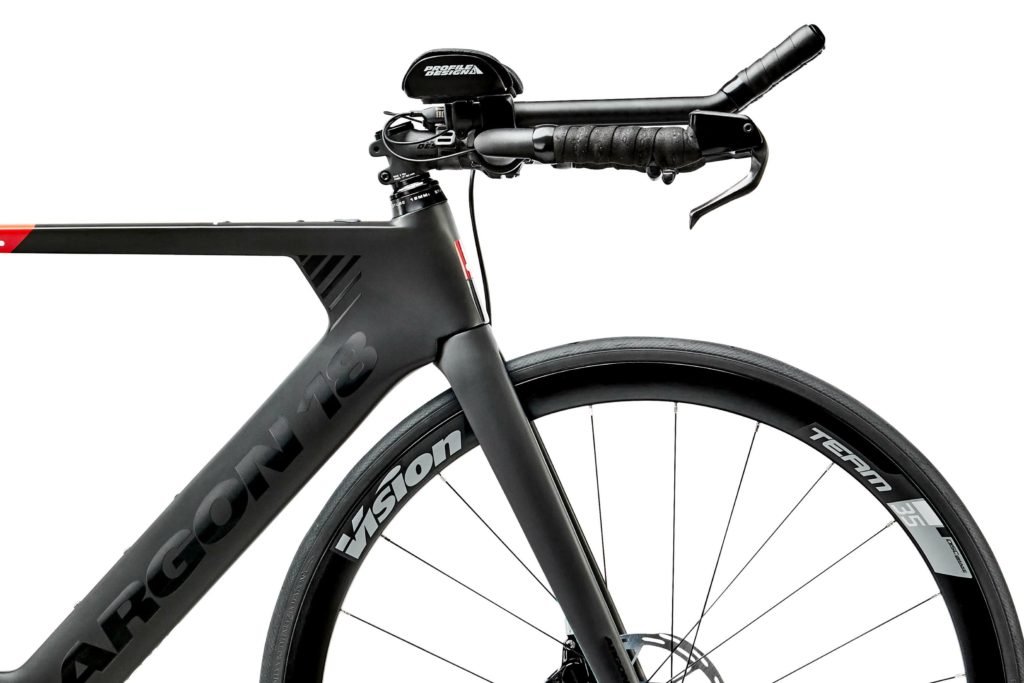 E-117 Tri Disc: A true surprise for triathlon cyclists
After reviewing the bike from top to bottom, it's easy to see how they made it so far. Argon 18 made a wonderful job while designing the bike, and now it's time for us to acknowledge that. So, if you are looking for a proper triathlon bike at a good price, the E-117 Tri Disc is the one you need.