Berria Mako Hybrid 150-9, an e-bike that will steal many people's attention through 2021. Is pretty likely to be one of the best e-bikes in 2021.
We know that Berria is a professional company when it comes to delivering bikes. With this new model, we will tell you precisely what you need to know about it.
First impressions of the Hybrid 150-9
The first thing that comes to our minds when seeing a Berria Mako Hybrid 150-9 is that a new frame and a new motor are attached to the bike. Most people in the world say this bike is the best example of a double cycle.
They created this bike to get a powerful performance that can't be found easily when looking for other bikes on the internet.
Berria says that this e-bike is one big responsibility for them. But it's an excellent power for cyclists to use it.
Taking a step forward, we analyze the technology that Berria used in this bike: a powerful motor, a great battery, and top-notch gear primarily delivered for this Hybrid 150-9.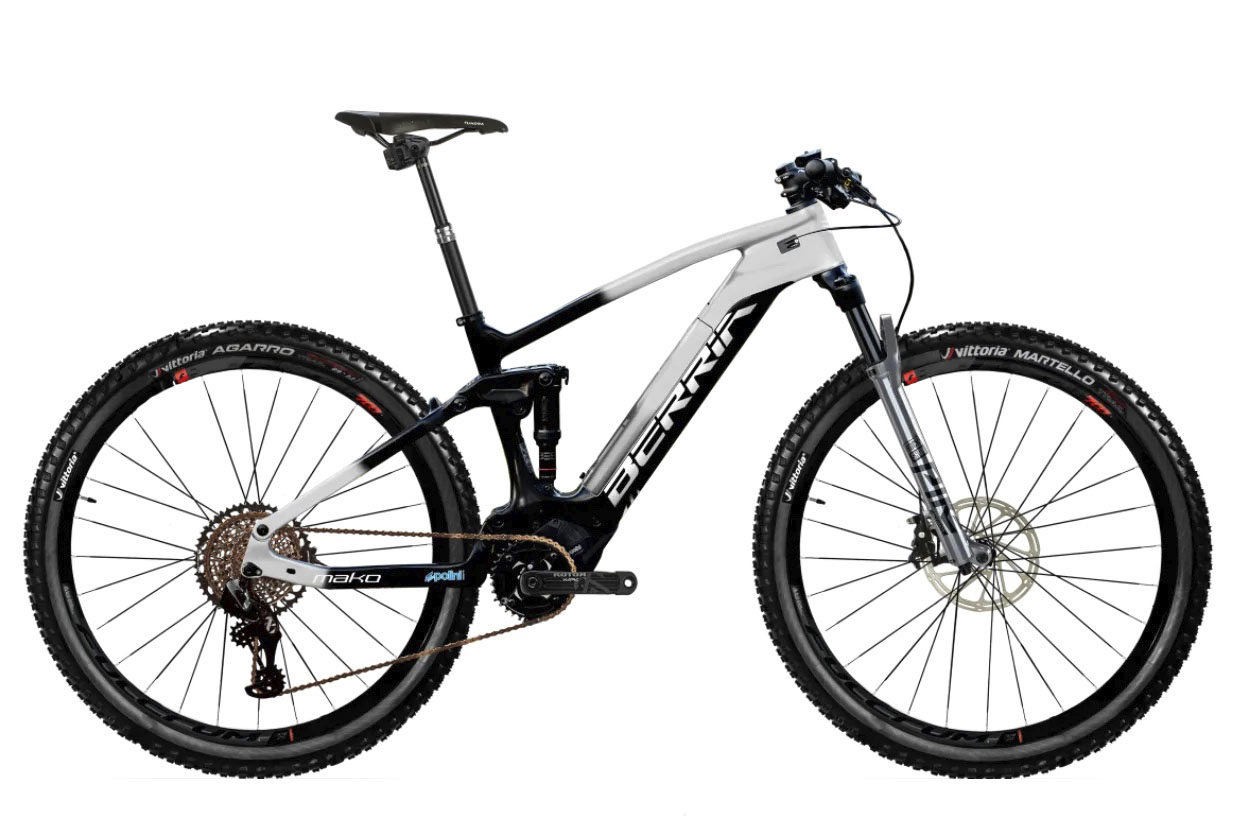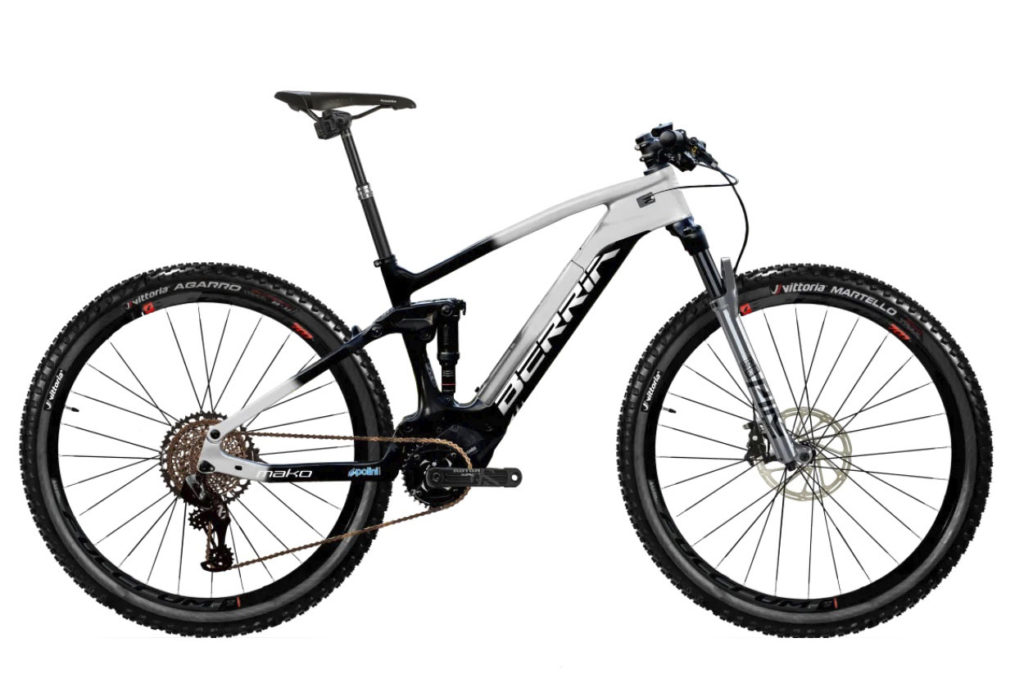 Deep view in the Berria Mako Hybrid 150-9 electronics
The first thing we are going to talk about is the powerful motor Berria used for this e-bike. The EP-3 motor created by Polini with a magnesium alloy that works perfectly with this Mako Hybrid.
Then, we need to review the battery. A 500Wh battery that weighs 2.620 grams is the perfect combination to work with this Berria Mako. The battery is so powerful that it allows up to 100km of autonomy when riding it. And, if you combine it with the frame battery, you can get more than 180km of autonomy in a single ride.
You can access the battery in a pretty easy way due to the design they used on it. We can say that you won't even see it (Hidden battery).
Something awe-inspiring about this Berria Mako Hybrid 150-9 is that we didn't get to see any cable hanging around. The design is pretty minimalistic, so these little details are treated carefully.
Display and assistance levels
We have one word to describe the Mako Hybrid, and it is fast. You can see how fast you can go in the blink of an eye, but you can go even quicker thanks to the assistance levels.
The Mako Hybrid has five different assistance levels that offer up to 400% of support.
On the other hand, we get a Polini P3 display that will allow us to operate our bike the way we want. You had the opportunity to see the battery level, use a LED light for long rides, and you can even press a button to help you carry your bike when not riding it, thanks to the E-P3 motor.
Berria Mako Hybrid 150-9; top-notch gear?
The actual e-bike market is constantly evolving, and all the bikes are trying to give something different to attract cyclists to buy their bikes. This is something that Berria has very clear. And managed to get great gear to use in the Berria Mako Hybrid 150-9.
They worked with different components, different from the Moma E-MTB that only worked with Shimano. The result is this:
Brakes: Sram XX1 Eagle AXS 12V
Handles: SRAM XX1 Eagle Single ClickTrigger
Rods: e-Kapic /TDS /OCP / 34T / 165-170
Pinions: SRAM XX1, XG1299 10-52 T
Chain: SRAM CN XX1 Eagle Copper
Brakes: SRAM CODE RSC / tool-free reach adj/4 Piston Disc/ 200/F and 180/R 6T
As we can see, Berria decided to work with different gears to create the perfect e-bike that will suit many people's needs worldwide.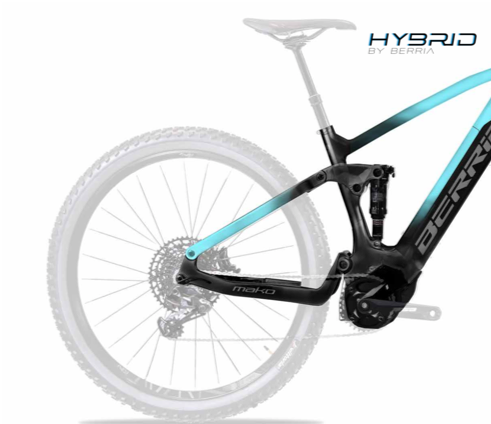 Mako Hybrid 150-9: Perfect frame for an e-bike
The e-bike market is pretty competitive at this point, and Berria knows it. When thinking about creating the Hybrid 150-9, they came up with some perfect ideas. Especially for the frame they will use, here's why.
Berria added a Mako Hybrid Carbon HM2X Frame built with Matrix Nanotech resin, which sounds pretty impressive to us. This frame was the perfect addition because it allowed making the electric part of the Mako Hybrid internally without any problem.
The fork is an Avanforce UD Carbon 760 mm, which is the perfect combination to make this e-bike feel like a mountain bike. We already talked about the handle, but we didn't mention an Avanforce made with carbon, just a little secret to make you fall in love with this bike.
Rock Shox Deluxe BERRIA MAKO HYBRID custom is found on this bike. The seat is a Fizik Tundra M7, designed to make you feel comfortable every moment you are riding this bike.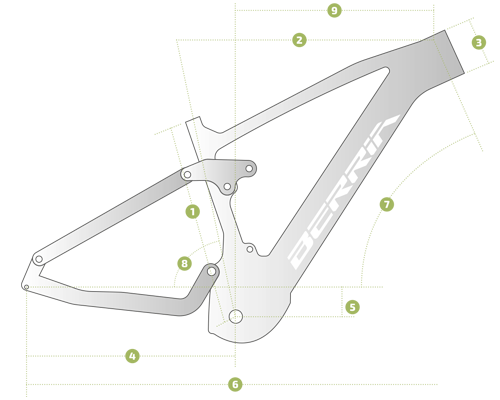 Berria Mako Hybrid 150-9: Best e-bike of 2021?
After seeing all that Berria gave to us on this e-bike, we have to say that is one of the biggest bet in the 2021 market. We know there is a lot of competition out there with Specialized, Moma, Canyon, among other companies, but that's not an issue for Berria.
They knew how to make us fall in love with this e-bike. And we know cyclists will be grateful to them thanks to this revolutionary bike.