If you are looking for a bike for you to have during this year, there are lots of options available here. No one can deny that because, as it has happened in previous years, companies are giving their best to give the world the best bikes they can create. That's why we will talk about the Giant Reign E+.
Maybe, if you have ridden a Giant bike in the past, then the Reign name might sound familiar to you. It is no surprise because this is a renewed model, and it has everything people could be asking for to be a top bike during 2022.
What will the Giant Reign E+ offer?
Saying a bike has a lot to offer is not lying. Year after year we have to properly say companies try their best to give people what they need, and this year won't be an exception to that.
For example, the Giant Reign E+, this one is not a normal bike. Don't get us wrong, we aren't saying this bike changed the rules of what we have seen before, but it is quite a challenge to make an enduro e-bike, no?
Well, that's something Giant managed to deliver and people are quite happy with the result they are receiving. The Reign is an old familiar bike for Giant users, and seeing it back again in 2022 surely brings back some amazing memories to them.
But, talking about what they will offer to people, what can we expect about this bike? Well, that's something we'll talk about deeper in a few seconds.
The first thing you need to know about this e-bike is; there are different models of the Reign E+ offered by Giant. But, today we will talk about the Giant Reign E+ 0, the most impressive bike of this series.
So, if you are ready to go and see what this bike has to offer, let's talk about two things people truly worry about: the frame and components of the bike.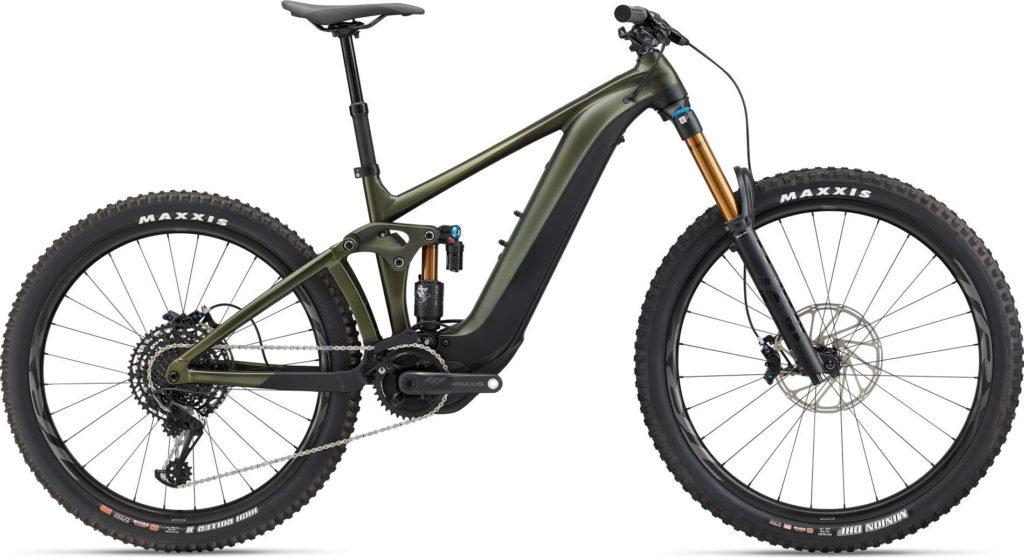 SRAM is the chosen company for the Giant Reign E+ 0
Nowadays, choosing a bike is quite difficult due to all we need to look at before making a decision, right? It is not a simple task to do, but we can help you out a bit with what we have to say.
In this particular case, we can say we are impressed by the choice of Giant. Don't get us wrong, but we have seen more bikes with Shimano gear than with SRAM, but it is quite a refreshing thing for Giant.
Why do we say this? Well, go ahead and take a look by yourself:
Brakes: SRAM Code RSC, hydraulic disc
Brake Levers: SRAM Code RSC
Cassette: SRAM PG-1230
Chain: SRAM XO1 Eagle PowerLock
Crankset: SRAM X-Sync Eagle 36T chainringPraxis e-Carbon custom carbon crankarm set
Front Derailleur: MRP 1X HD2 custom co-molded chain guide
Rear Derailleur: SRAM XO1 Eagle
Something we can also mention here is the appearance of Fox as well. They work together with Giant by giving them the fork and shock of this bike.
What frame Giant put on the Reign E+?
Nowadays, there's always a discussion about which frame should people use. Carbon and aluminum are the best options in the market, but companies don't always pick the same.
The ALUXX SL-grade Aluminum is made from the best materials people could have chosen for a bike. Made with the 6011 alloys, this bike will surely be a dream for most cyclists out there.
Also, it is perfectly designed to support the technologies used in this bike, such as the battery and other important gear!

Is the Giant Reign E+ the best e-bike of 2022?
At this point, is too early to make a choice. We can tell it will surely be one of the best bikes of the year, but to say it will be the best, there's still a road to ride through as we are only in February.
Still, we can say that the Giant Reign E+ will surely be one of those bikes that people will surely love to ride, so don't hesitate to get one for your adventures.