Canyon Spectral CF 9.0 is the new e-bike for an old friend of cyclists. Canyon is a well-known company that is famous for making all kinds of bikes. Road bikes, mountain bikes, and now, they are fully interested in the e-bikes models. We know that the Spectral is an already known bike from Canyon, but now they switched some things to make it a good e-bike. Ready to know why?
A quick gaze through the Canyon Spectral
Before we get into details, we need to talk about our first gaze at this bike. Once you see it, you feel like you are watching something familiar, and it is. The Spectral is a bike that we have seen before in the Canyon catalog, but this time is different.
For the company, this e-bike is their flagship, and we couldn't agree more with them. Imagine they took one of the most incredible mountain bikes they have ever made, but they added a powerful engine with a fantastic battery. If you might be wondering what it would look like, then you need to take a deep look at the Canyon Spectral CF 9.0.
This e-bike is pretty lightweight and has some of the best components we can find in the worldwide market. Are you looking for a Shimano Battery? Check. Are you looking for some FOX suspension? Check. Ready to know more about this bike? Of course, we are!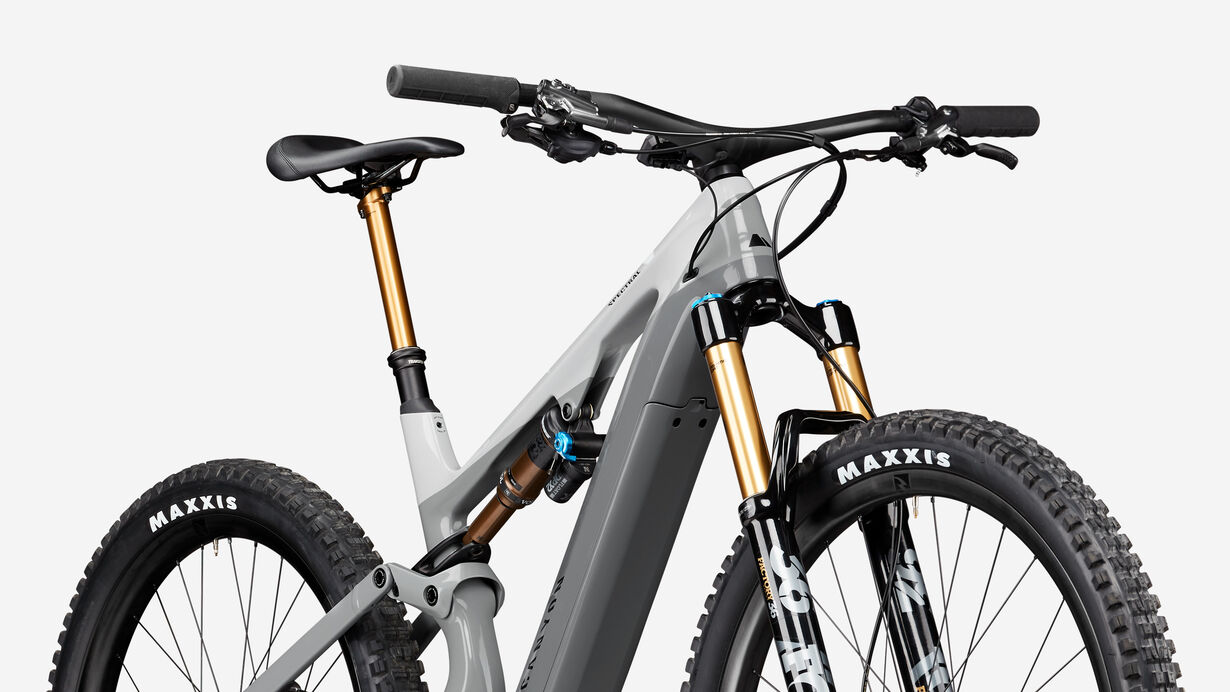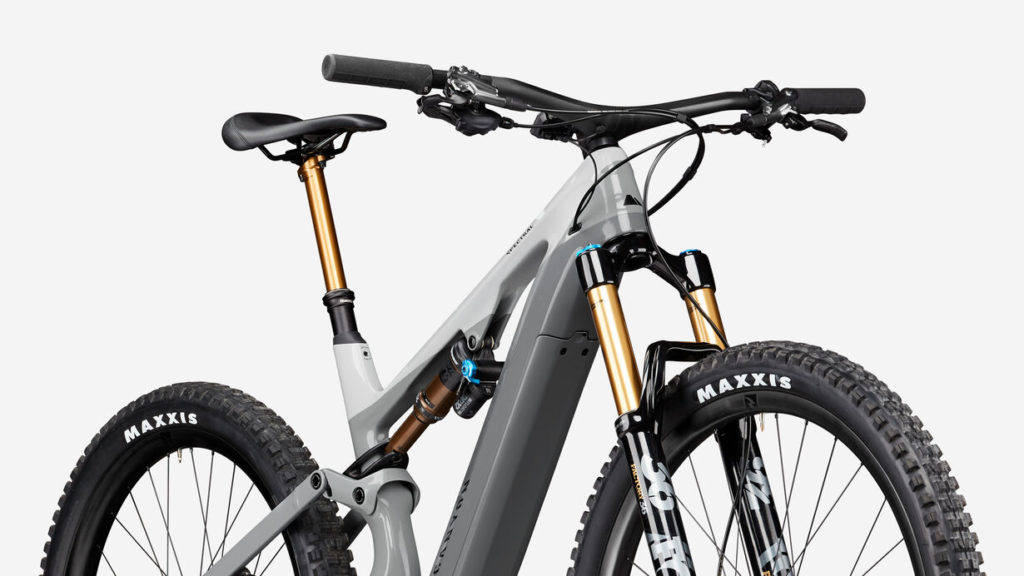 Shimano: Canyon's bet for power
For most people, Shimano is the perfect example of what an excellent component is. They have delivered many pieces for bikes, and now they are looking to take over the e-bikes market.
The first thing we need to know about the Canyon Spectral CF 9.0 is the motor. The Shimano Steps E800 is a pretty powerful engine for 2021 e-bikes. It has a maw power output of 250 W with a 70Nm torque, which makes a pretty impressive motor. Also, it weighs less than 3Kg.
But how would they make this motor work? Well, it's simple; a Shimano battery. Canyon added a Shimano BT-E8035-L 504Wh battery for this e-bike. Why is it so important? It is not only because of the 504Wh power: It is a lithium-Ion battery with IPX5 water resistance, and you can add an adapter to charge it whenever you need to.
You need to know more things about the Canyon Spectral CF 9.0 before we talk about the other components.
Small and easy to use display
We have seen in a lot of e-bikes that they added a kind of small display to control the assistance levels, check the battery level, and so on. Some of them have a medium display, some of them have a kind of small display, and then there's the Spectral. Which, by the way, has a Shimano display.
You can find the display on the handlebar, but it's pretty tiny. You can even think that it is gone the first time you look at it. Something important about this display is that you can connect it to your phone or preferred device.
Also, you have the chance to enjoy up to 5 assistance levels that you will control however you want to.
Canyon Spectral CF 9.0: A mix of powerful gear
We already know Canyon bet for Shimano to power up this e-bike, but what about the rest of it? What are we going to see in the brakes, rear shock, and so on? It's time to directly look at those parts that make this one of the most fantastic bikes from Canyon.
They decided to add components from some of the most famous companies (Leaving Shimano aside). We are talking about FOX, Reynolds, and Maxxis, but there is a lot of Shimano stuff in this potent mix.
Rear Shock: FOX Float DPX2 Factory
Suspension Fork: FOX 36 Factory
Rear Derailleur: Shimano XTR, 12-speed
Shift Lever: Shimano XTR
Cassette: Shimano XTR, 12-speed (10-51) with aluminum and 51T cogs.
Chainring: Canyon:ON 34T
Chain: Shimano M9100 XTR Chain
Disc Brakes: Shimano XTR M9120 – Shimano XTR 4-piston rear brake
Brake Rotor: Shimano XTR front rotor, 203mm – Shimano XTR STEPS rear rotor
Wheels: Reynolds TR 309 E, 29er and Reynolds TR 367 E, 27.5."
Tires: Maxxis Minion DHF, 2.5″ – Maxxis Minion DHR II, 2.6″
Most of the components we can find in this bike are made from Shimano, but as we can see, they decided to use other companies to create the perfect combination.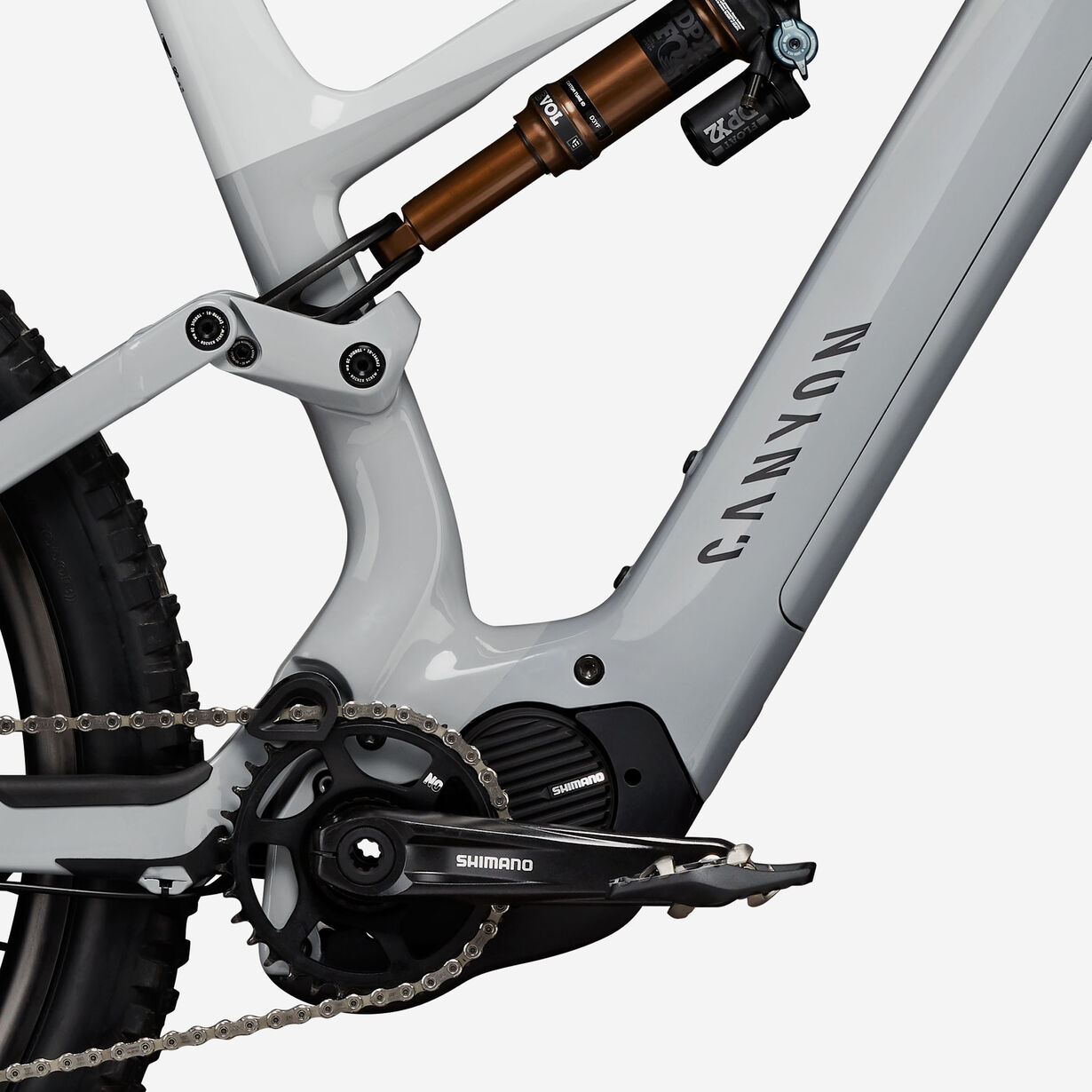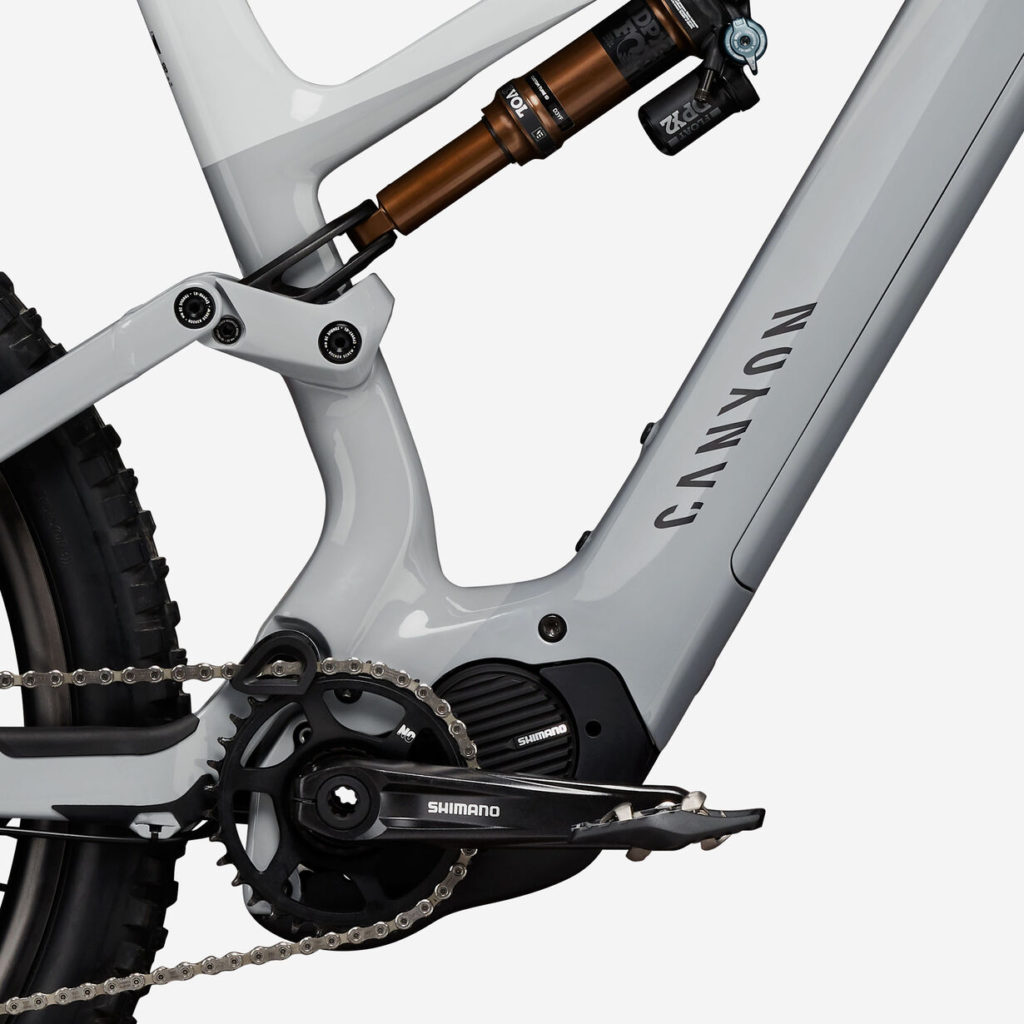 Spectral Frame: A well-made carbon choice
After some years, we have seen that bike companies have decided to use carbon instead of other materials. Maybe the reason is that it makes bikes weigh much less, or because when the bike is finished, it gives a pretty awesome look.
And that's what the Canyon Spectral CF 9.0 is giving to us with the frame they decided to use on it. This frame is a Canyon creation called Canyon Spectral: ON and is entirely made of carbon.
When Canyon aimed for an eMTB, this is what they were looking for. But no only Canyon, cyclists were looking for an e-bike like this as well.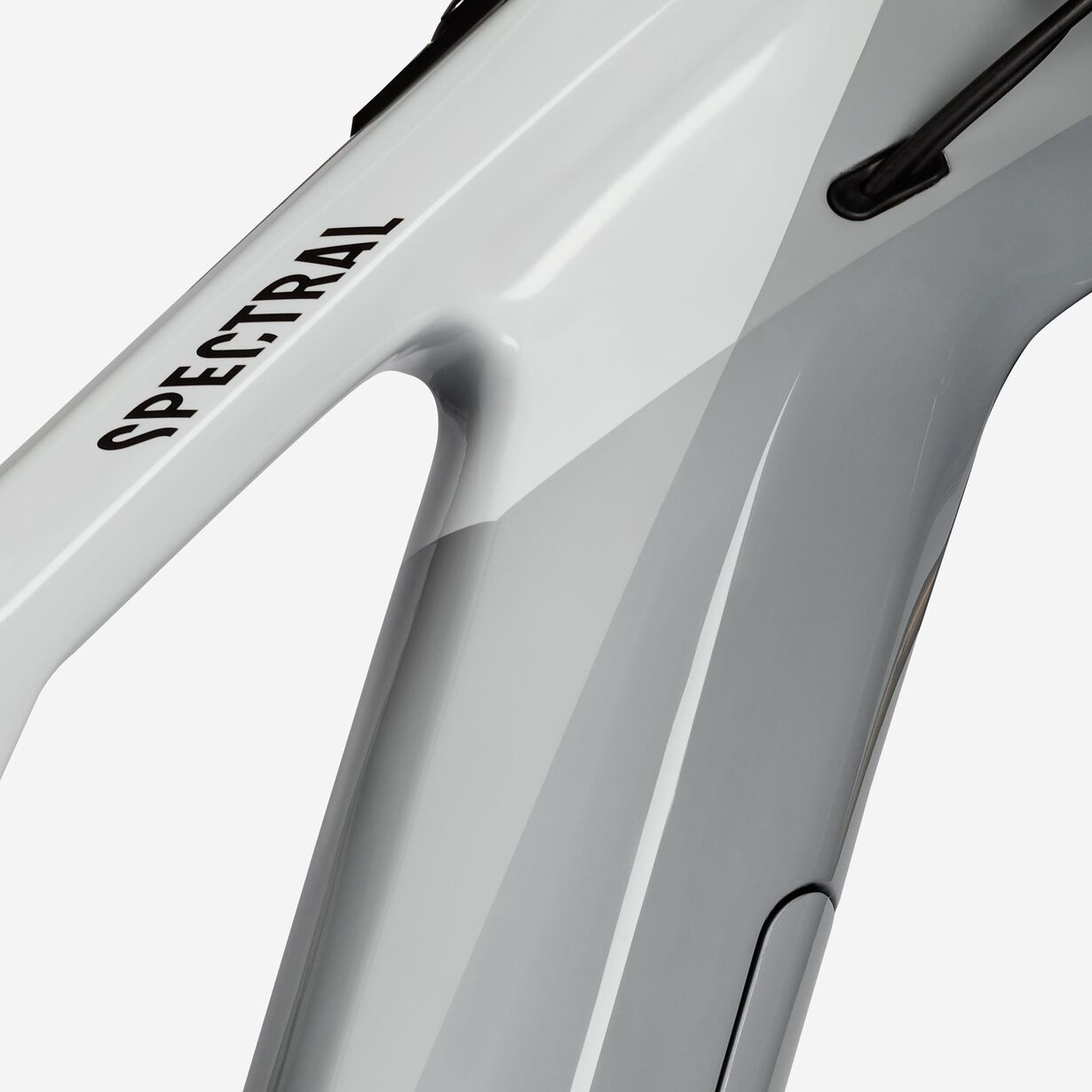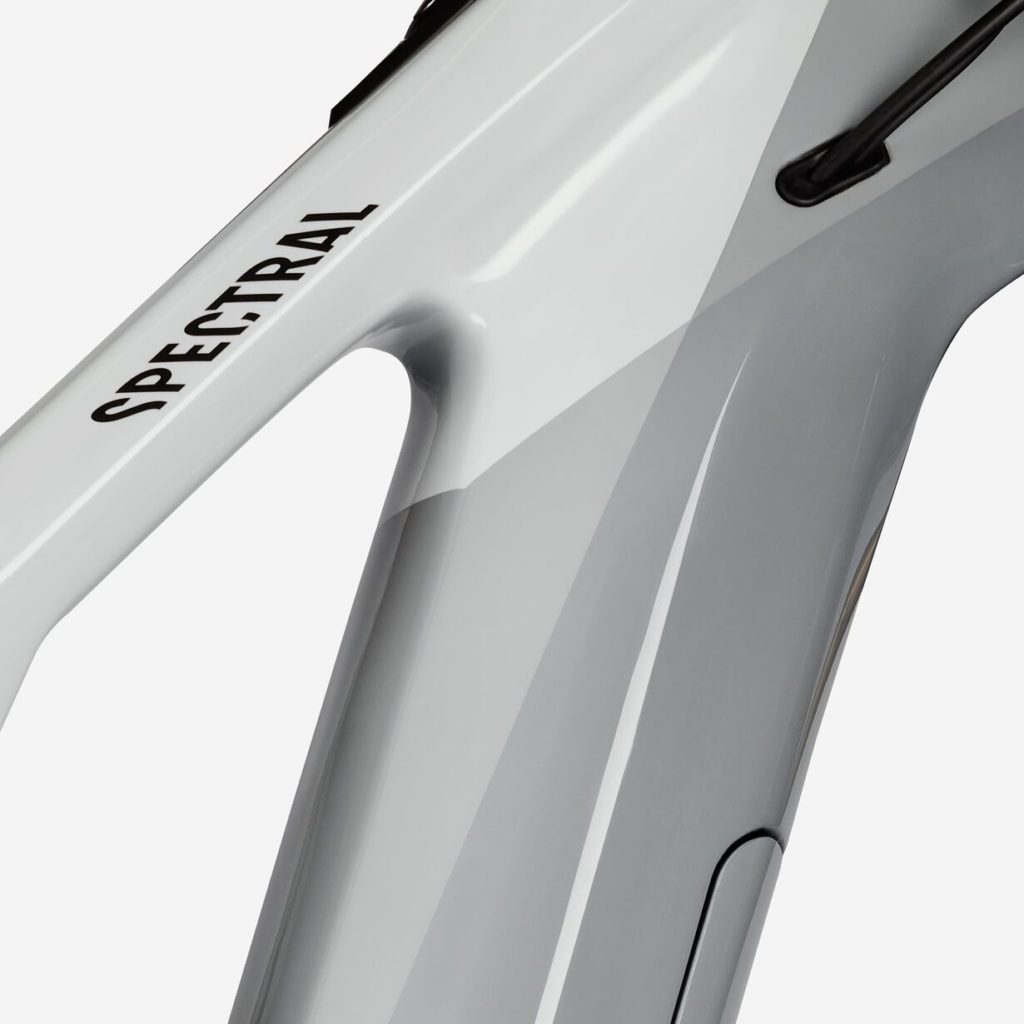 Canyon Spectral CF 9.0: Final thoughts
After seeing every detail in this bike, we have to say that Canyon did it again. We are used to seeing how powerful their bikes are, and this is not the exception.
And in case you were wondering, they earned an award named Red Dot, which is one of the most prestigious awards worldwide.
So, for us, this bike is a must for many cyclists. Immensely powerful, lightweight, and with a beautiful frame that looks good wherever you take it to.