Mondraker Crafty Carbon XR 2021 is, as the name says, the flagship bike of Mondraker for 2021. But more than being a simple bike, we are talking about one of the newest e-bike models of Mondraker company. Some details need a deep look to understand how powerful this e-bike is, and we will tell you all you need to know.
Mondraker Crafty Carbon XR: Fast review
Most of the current e-bikes are currently known for being mountain bikes as well. This has become pretty popular on the current e-bike market, and people are happy with it. And, if you ask people, they love the idea.
Mondraker didn't focus only on design, but they thought about the drive as well. They are breaking some of the rules for most of the companies in the current market. If you take a look into a Specialized or maybe a Conway, you will find out they use Shimano, but this is not the case,
The Mondraker Crafty Carbon XR is a bike that changed the rules by using Bosch technology. They left FOX aside as well, so it is the fact that they wanted to create something different. And they did.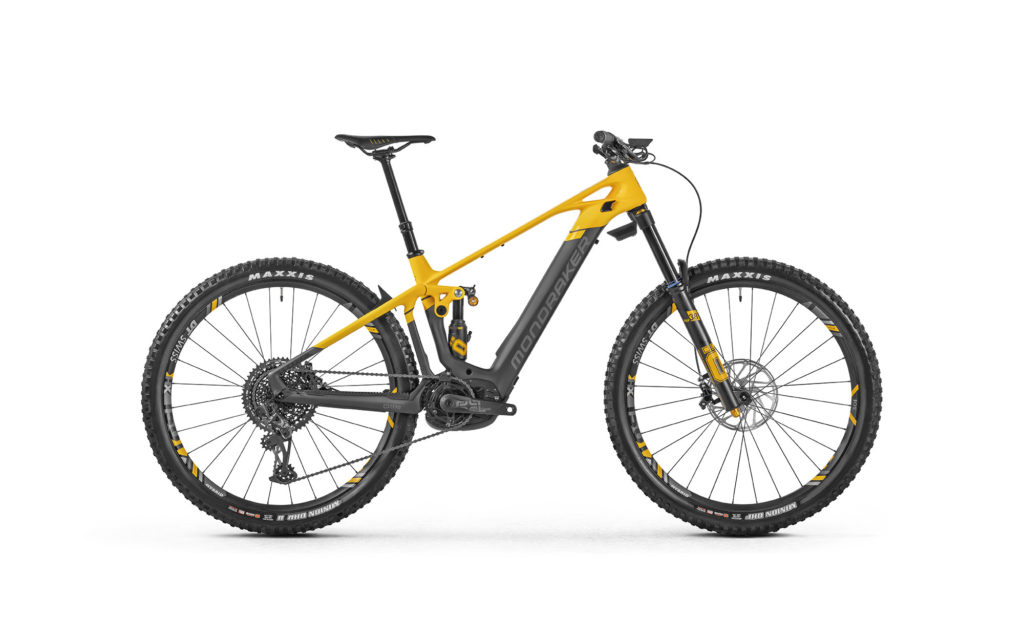 Bosch over Shimano for the Crafty XR
We said before, but we will repeat just to make it clear. Bosch is the bet of the Mondraker company for their newest flagship in the e-bike market. No Shimano is found on this model. But that doesn't mean that they created something that doesn't have the power people are looking for.
One of the newest Bosch motors is the Bosch Performance Line CX Cruise. And in case you were wondering – yes, it is on this bike. Leaving Shimano aside can be a dangerous move, but if you have a motor like this, you will have no problem and keep the power you need in an e-bike.
The motor won't work alone. It needs something else to make it function as it should. And that's when we introduce you to the Bosch Powertube 625Wh. When mixing the motor and the battery, you get quite a good performance and more than 80km of autonomy when using it. Before moving on to the rest of the components, there is something else that we need to talk about.
Bosch Kiox, perfect for the Mondraker Cratfty Carbon XR
When talking about an e-bike, there is something that you cannot forget as it will be one of the main pieces for you to use. You might think about the breaks or the handlebar, but no.
In this case, we are talking about the Bosch Kiox, one of the most impressive displays we can found in the current e-bike market, and that will make our Mondraker Crafty Carbon XR unleash all the internal power it has.
With the Bosch Kiox, you have the chance to watch out for the battery level, how fast you've gone on your trip, and much more!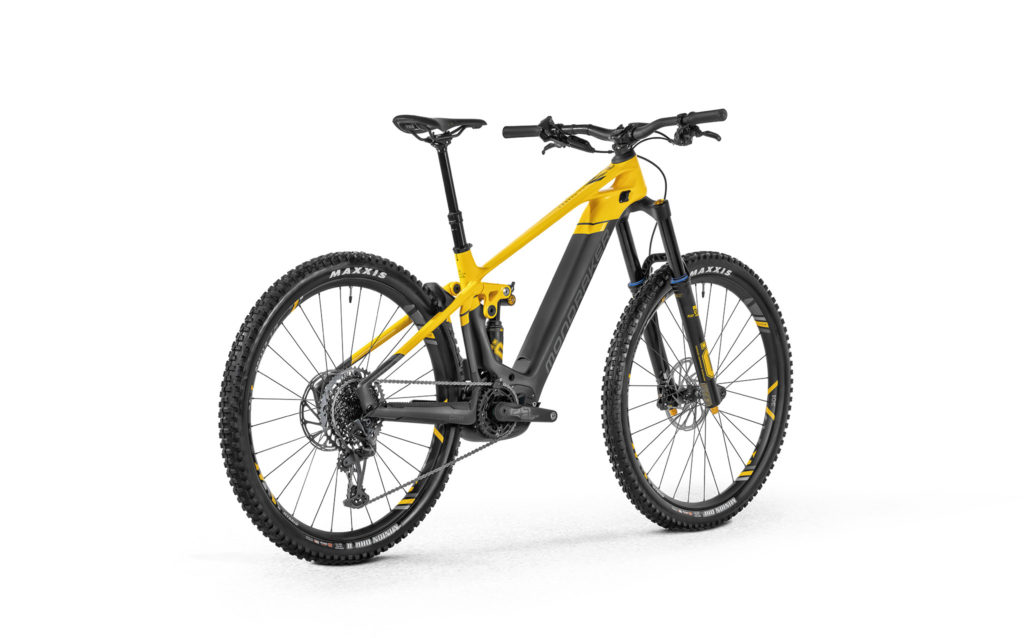 Ohlins: A different alternative for the Mondraker Crafty Carbon XR
As you start to look deeper into this bike, you realize something. Shimano is not the only company they left behind. Taking a look at other e-bikes taking over the 2021 market, you can recognize that most of the bikes use FOX, but we are talking about Ohlins components in this case.
It might surprise many cyclists, but if you take a look at the components, you get to understand why they picked these gear for the Crafty Carbon.
Rear shock: Öhlins TTX Air 205X65mm.
Shock settings: C40 compression, R60 rebound
Fork: Öhlins RXF 38 29, 170mm, TTX18.
Headset Acros: custom for 1-1/2″ head tube, angular contact bearings 40x52x7, Internal cable routing
Stem: Onoff Krypton FG 30mm, 6061 forged alloy, 31.8mm barbore
Handlebar: Onoff Krypton Carbon 1.0, rise: 25mm, width: 780mm, 9º backsweep, 5º upsweep, 31.8mm barbore
Grips: Onoff Desert, 1lock-on, 135mm, sizes: S/M L/XL
Front brake: Sram Code RSC
Rear brake: Sram Code RSC
Brake lever: Sram Code RSC, SwingLink, and lever pivot bearings.
Crankset: E.13 E*Spec Plus ebike, 165mm
Chain: Sram NX Eagle, 12s, Powerlock
Rear derailleur: Sram X01 Eagle
Shift levers: Trigger GX Eagle, 12s, X-Actuation 1:1, single click
As we can see, they are still using some components like the Sram. But, most of the ones they decided to use are not very common nowadays.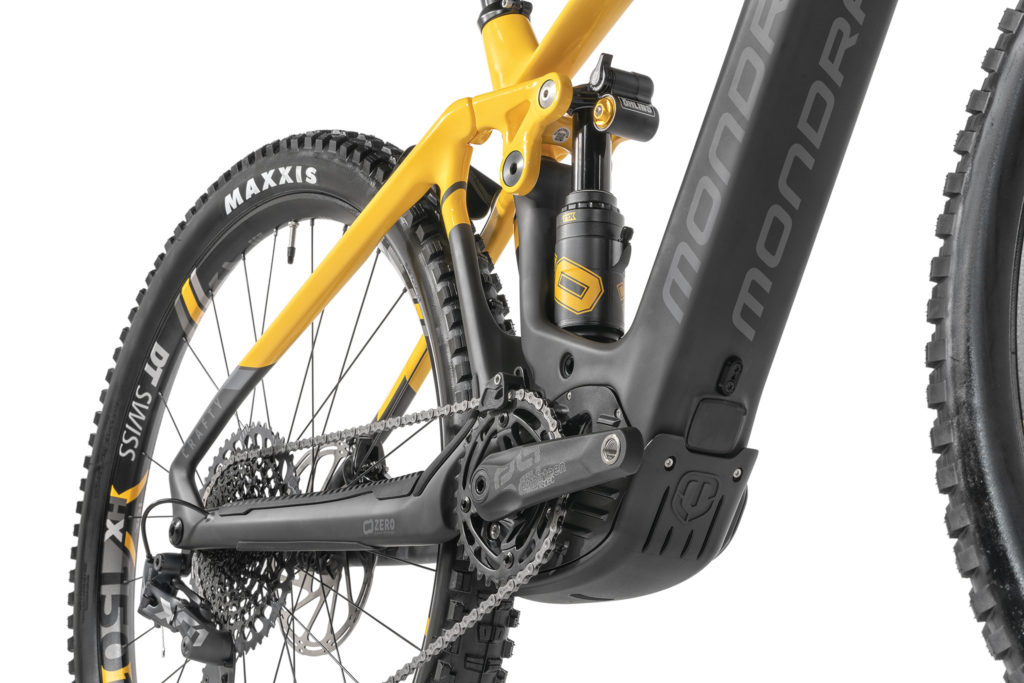 Crafty Stealth Air: Mondraker newest frame
Something that might be a surprise to most of the cyclists is that Mondraker created a whole new frame to give the Crafty Carbon XR. It is everything it needs to be a competitive e-bike in 2021.
The Crafty Stealth Air Full Carbon is the frame they designed with the definite purpose of using it on this e-bike. The Zero Suspension System is the perfect finish for a bike with a lot of power, thanks to its main gear.
The Mondraker Crafty Carbon XR has quite a reasonable frame. We might have to say that it is one of the most promising 2021 frames. So if you have any doubt about it, we have to say that this frame will let you get everything you were looking for on an e-bike.
Mondraker Crafty Carbon XR: Our final thoughts
After reviewing most of the details on this e-bike, we have to say that's it is pretty impressive. They decided to bet on something different, something to refresh the market with new components, and they nailed a remarkable result.
The Mondraker Crafty Carbon XR is one of the bikes that we must keep in sight of during 2021 because it might surprise us all.