Niner RIP E9, does it sounds familiar to you? Maybe the company name does, but what about the bike model? If you don't know a lot about this e-bike, then it's the perfect moment to do it. We are about to tell you everything you need to know about it and how the RIP E9 became so crucial for Niner.
First thoughts about the Niner RIP E9
When Niner thought about getting into the e-bike market, they weren't sure about what to do. They took quite some time to create a new model that could fit cyclists' needs. And even though they have some competition in this e-bike market, the Niner RIP E9 has that special thing that people look for.
Niner added this bike some of the best gear we can find in the actual market. If you are aware of the bike market, you might know that Shimano is taking over in the major companies, but for Niner is pretty straightforward: they picked Bosch.
And, leaving Bosch aside, we can find that the rest of the components are what most of the cyclists could expect. We can find a pretty equal mix of FOX and SRAM that is the perfect match nowadays.
Niner even thought about making a very own aluminum frame to make everything match perfectly in this e-bike.
But there are more surprises behind the RIP E9 that we will show you because it is necessary to talk about them.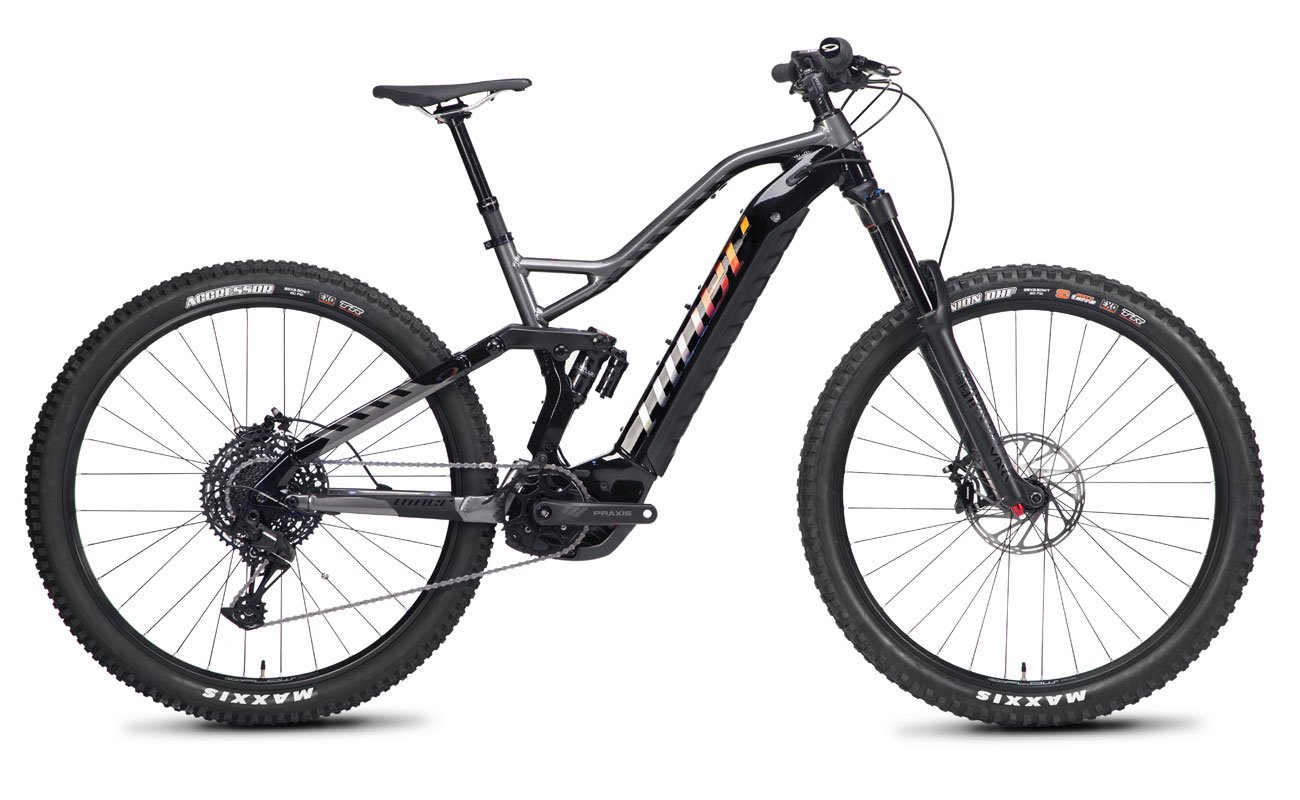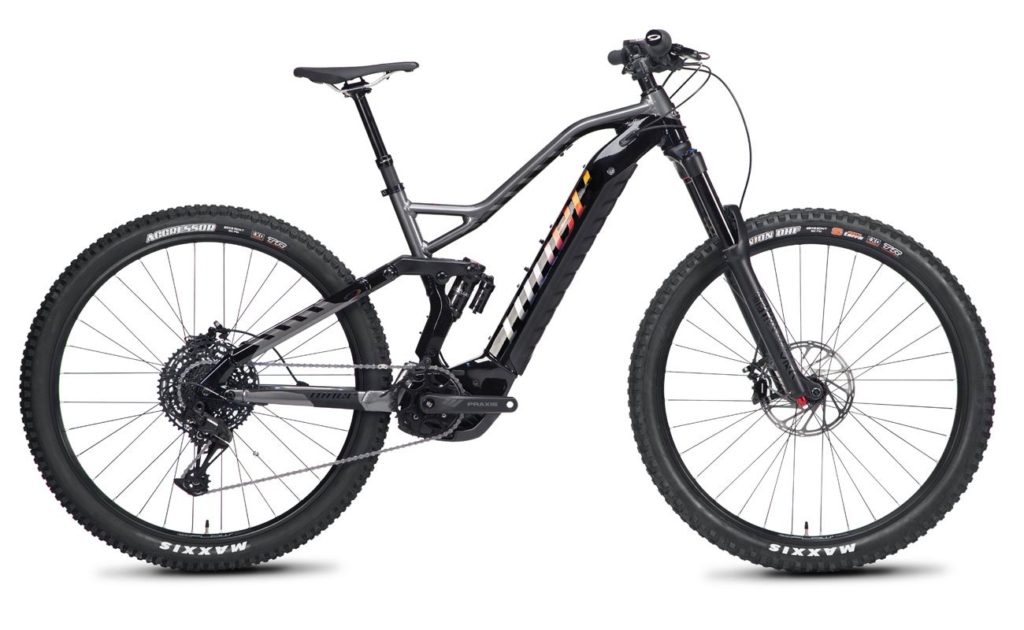 Niner plus Bosch: The RIP E9 bet
Bosch is known for making some of the best gear in the market for every kind of bike. It doesn't matter if you are riding a mountain o road bike. But for the e-bikes, Bosch has created some of the best batteries and motors that companies can use to create an even more powerful bike.
And, in case you were asking, yes, Niner has chosen Bosch for their first e-bike ever. The Bosch Power Tube is lithium-ion batteries that are designed to take e-bikes to a higher level. With 625Wh, the RIP E9 is capable of taking you everywhere you want to, thanks to its significant autonomy.
But why adding such a powerful battery? Well, for the motor, of course. The Bosch Performance Line CX motor is, for most cyclists, one of the most efficient motors that exist nowadays. Thanks to how Bosch built this engine, you can get a zero-lag power delivery no matter when or where you are using it.
Bosch display and assistance levels
Like most e-bikes that companies like Specialized or Berria, the RIP E9 has five different assistance levels that can be managed through the display. You can switch your e-bike in the following modes:
Thanks to the battery, these five assistance levels are available in over 80km, which is a lot of autonomy. But how are you going to make those assistance levels work without any problem? Well, Niner thought about every detail.
Here's where we introduce you to the Purion Display. Another Bosch component that we can find in the RIP E9. Using this display, you get the chance to information about battery power, riding mode, distance, and even more characteristics that only Niner could deliver to cyclists with the help of Bosch.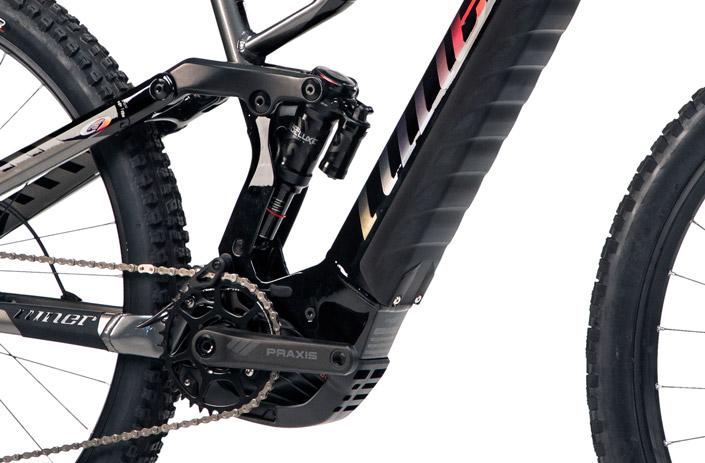 RIP E9: A deeper look at the components
When creating an e-bike, companies must use some of the best components in the market to have a chance against other e-bikes. Niner knew that they needed to make a first impression that leaves everyone breathless. That's why they went for SRAM, FOX and, Bosch.
To better understand what we are talking about, we need to take a deeper look at the gear that Niner chooses.
Fork: RockShox ZEB R
Shock: FOX Float DPX2 Performance Evol 3
Front Wheel: Stans NoTubes Flow D, 110X15MM
Front Tire: Schwalbe Eddy Current Evo Super Trail 29X2.4
Rear Wheel: Stans NoTubes Flow D, ECT-148S
Rear Tire: Schwalbe Hans DAMPF Evo, 29×2.35
Brake Rotors: SRAM Centerline
Brakes: SRAM Guide RE
Brake Levers: SRAM Guide RE
Chain: SRAM SX Eagle
Crankset: Praxis BOSCH G4 ISIS with SRAM DM Eagle Ring
As we mentioned before, Niner chose the best components in the market to make an impressive first e-bike.
Niner aluminum frame: An ideal design for an eMTB
When looking at an e-bike, we think about how powerful it can be and how much it will weigh. Niner knows this area, so they went for an aluminum frame, which they created for the solid purpose of using it on the RIP E9.
The hand-welded 6061 aluminum frame is the perfect complement for every component we mentioned before. It is the ideal match to take your wherever you want to go, and, thanks to how lightweight it is, you won't have to make a lot of effort to carry it.
We can't forget about mentioning that Niner added the Black Oxide pivot bearings, which, for an e-bike like this, is what most cyclists would expect.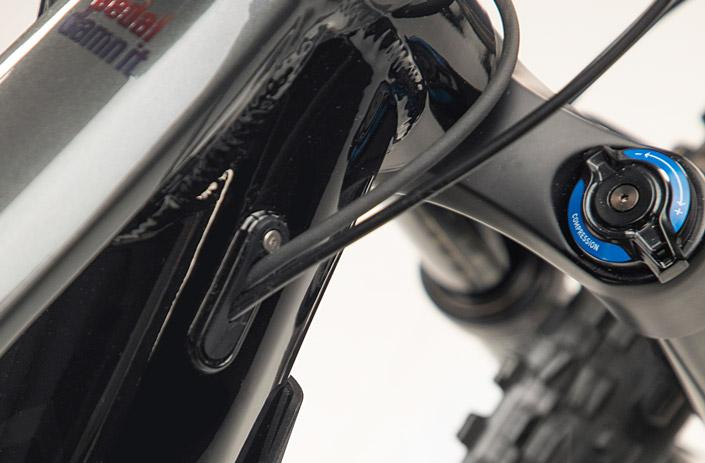 Our opinion about the Niner RIP E9
After reviewing every detail about the Niner RIP E9, we can see that they put quite some effort into this e-bike. They picked some of the Bosch, FOX, and SRAM components and put them on the RIP E9.
The result of Niner's extraordinary work is one of the most impressive bikes the company has. And, also, it is one of the most remarkable e-bikes for 2021, so we recommend you keep an eye on it.